The 22-23 Free & Reduced Meal Application is now live and ready to be filled!!! Remember, no Federal waivers have been announced for 2022-2023 which means meals will no longer be free for all students. The Middle School and High School have qualified for a program to provide free meals for ALL of their Students. For Elementary students who do not have a Free or Reduced meal status, pricing will be the following: Breakfast: Free for all Lunch: $3.50 for full price, $.40 for qualified reduced applicants. To apply online for Free or Reduced Lunch, visit schoolcafe.com, and log into your portal. If you have questions call Carlee at 877-526-7656 X212 or email
cjohnson@pcsd.us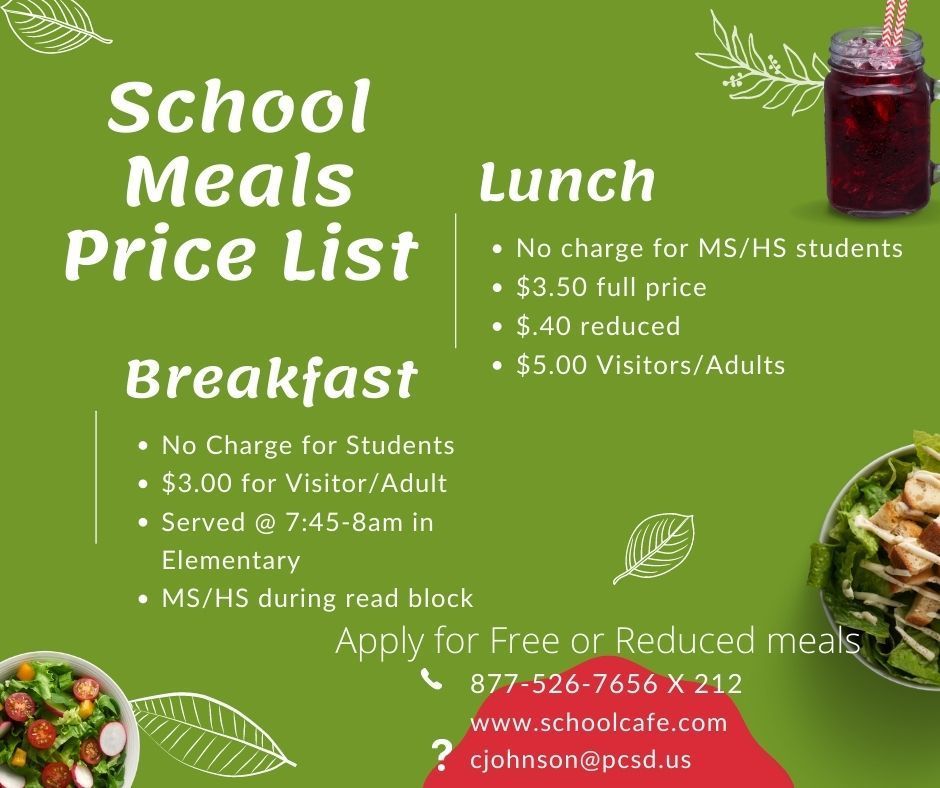 Check out our summer food program option!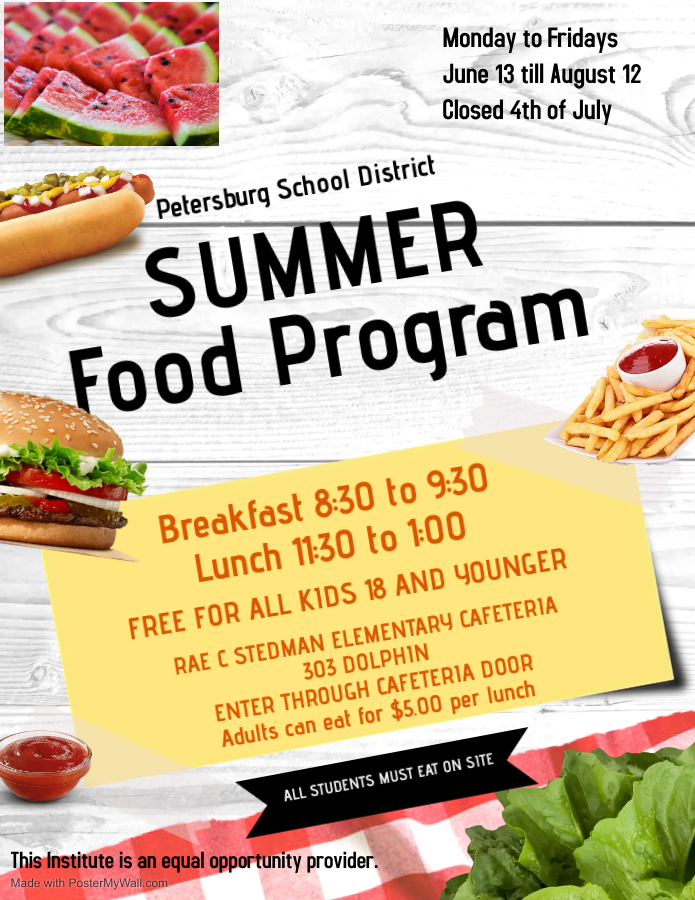 ​Parents, please stop by the middle school to pick up anything that middle school students may have left behind. The middle school office will be open ​between 8 am and 3 pm Tuesday​ (June 9th)​ through Thursday​ (June 11th). Items not collected by this coming Friday will be given to the Salvation Army. If you have any questions, please feel free to call the middle school office at 1-877-526-7656​.​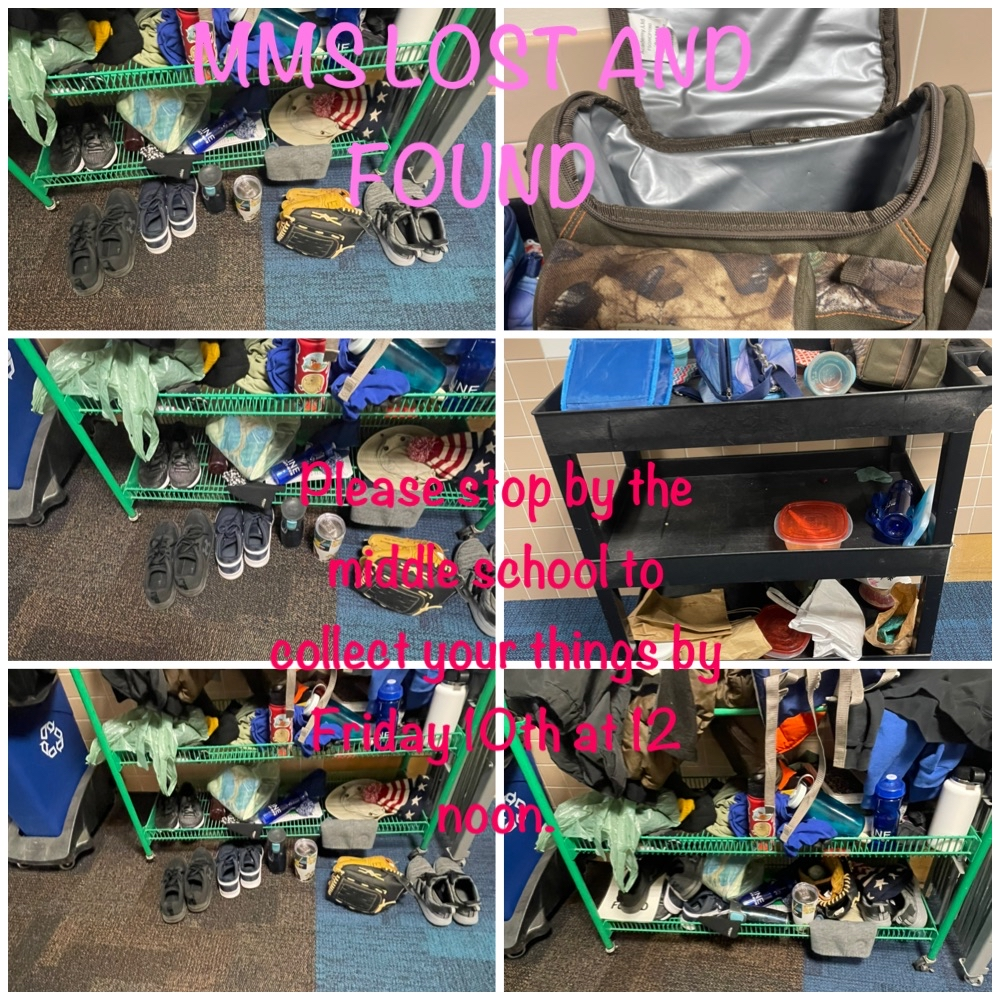 Viking Baseball defeated Kodiak 5-4 tonight to advance to the State Championship game on Saturday at 3pm. Senior Lathum Johnson pitched a complete game in the win on Friday night. You can watch the Vikings play on the NFHS network. Let's go Big Blue!

The Petersburg High School Student Musicians are performing tonight in the Wright Auditorium. Concert starts at 7 PM. If you are unable to attend in person, check out the live stream
https://www.youtube.com/watch?v=IbMJ4-m1A4I
PHS Spirit Week! Today is Meme day; Tues is Throwback Day; Wed is School Colors; Thurs is Summer Day; Friday is Mayfest! We will have a pep assembly on Wed, track and field will travel to Regions, baseball will be hosting JDHS Thurs through Saturday, all leading up to an outstanding Mayfest Weekend. Let's Go Petersburg Vikings!

Fifth Grade Families--don't forget about our information night in the HS/MS tonight at 6:30pm for our incoming 6th grade families. Students do not need to attend, but are welcome, as Mr. Cabral and I had a great time visiting with them this morning.

The Mitkof Middle School band will be performing tonight in the Wright Auditorium. Concert starts at 7PM. If you are unable to attend in person, check out the live stream
https://youtu.be/bW48zlSe_HQ
.
Now hiring Paraprofessionals for NEXT school year! Paraprofessionals help exceptional students throughout their school day. Full-time paraprofessionals get full benefits: *Retirement with State of AK PERS system* *Great "School Day" Schedule* *Paid Holidays & Paid Time Off* *Health Benefits - even during the summer!* Starting Pay $18.52 /hr ($18.02 for 90 day probation)*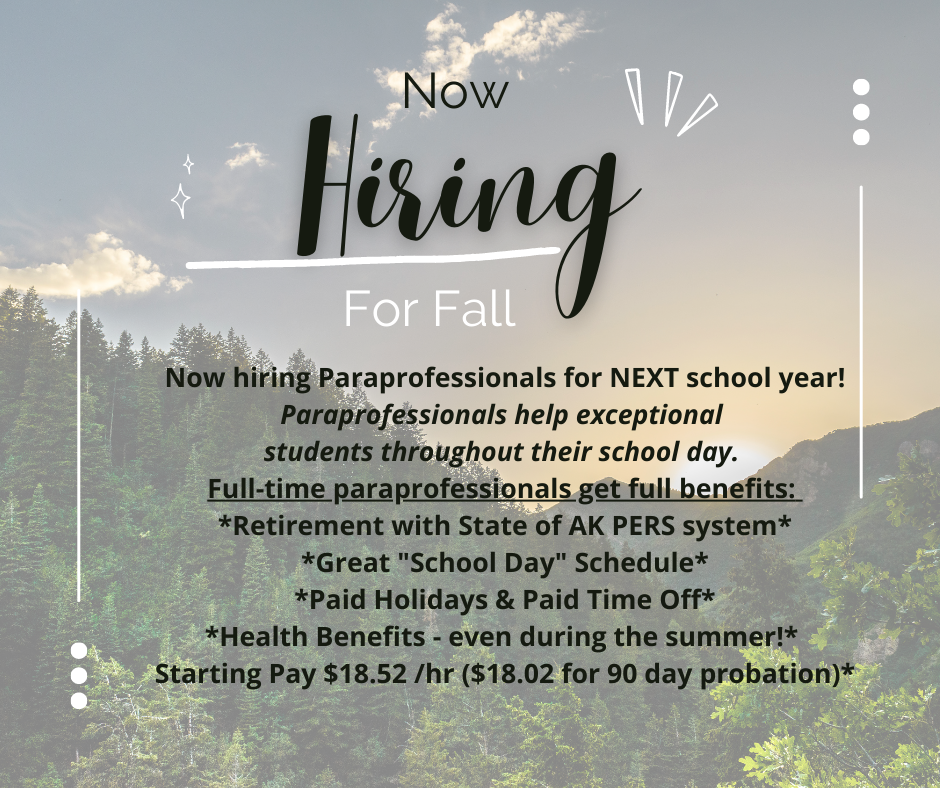 Come meet with the new Middle/High School Principal, Mr. Ambler Moss, on Friday evening, May 13 from 5-6 pm in the High School Library!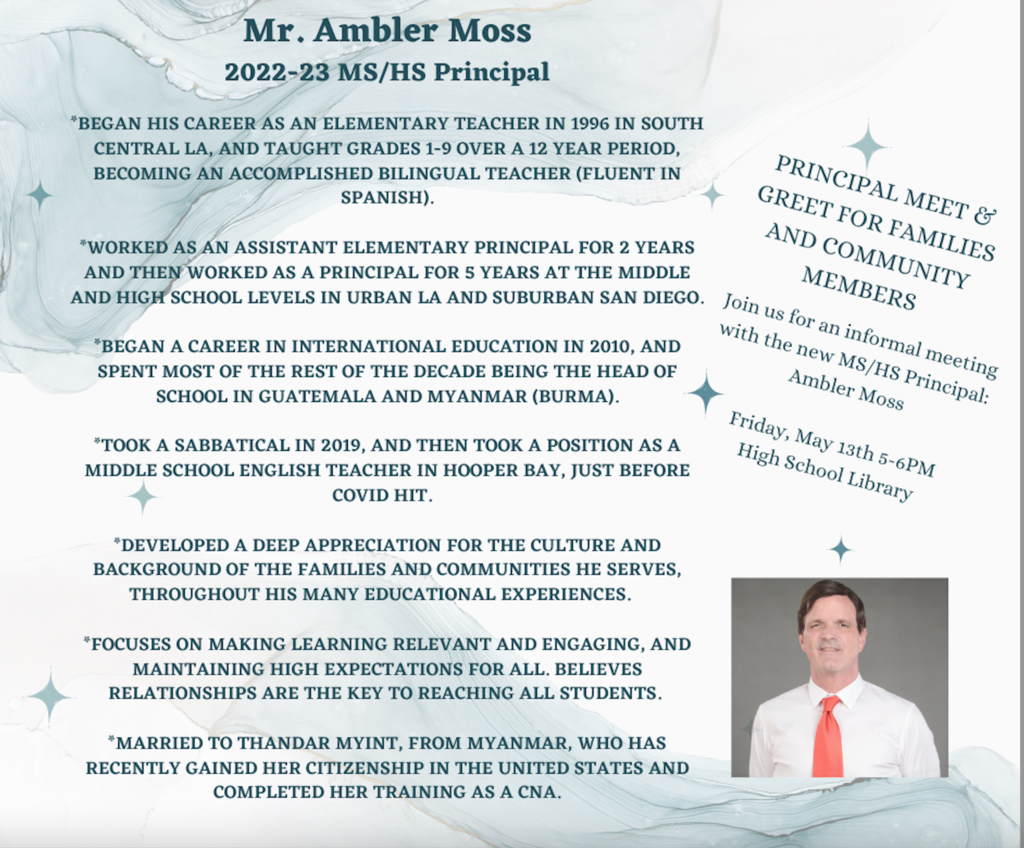 http://www.kimsnaturedrawings.com/
We are excited and honored to have an Artist in Residence visit Stedman Elementary School next week! Kim McNett, from Homer, Alaska is a nature journalist. Please have your students dress for the weather next week, as they will be going outside to observe the outdoors. Classes for adults the following weekend are here:
http://psglib.org/

It's Teacher and Staff Appreciation Week, May 2-6! In a year filled with unexpected twists and turns, our teachers and staff have worked tirelessly to provide a safe, positive learning environment for our students. Please take time this week to recognize their incredible efforts and perseverance! It takes a village!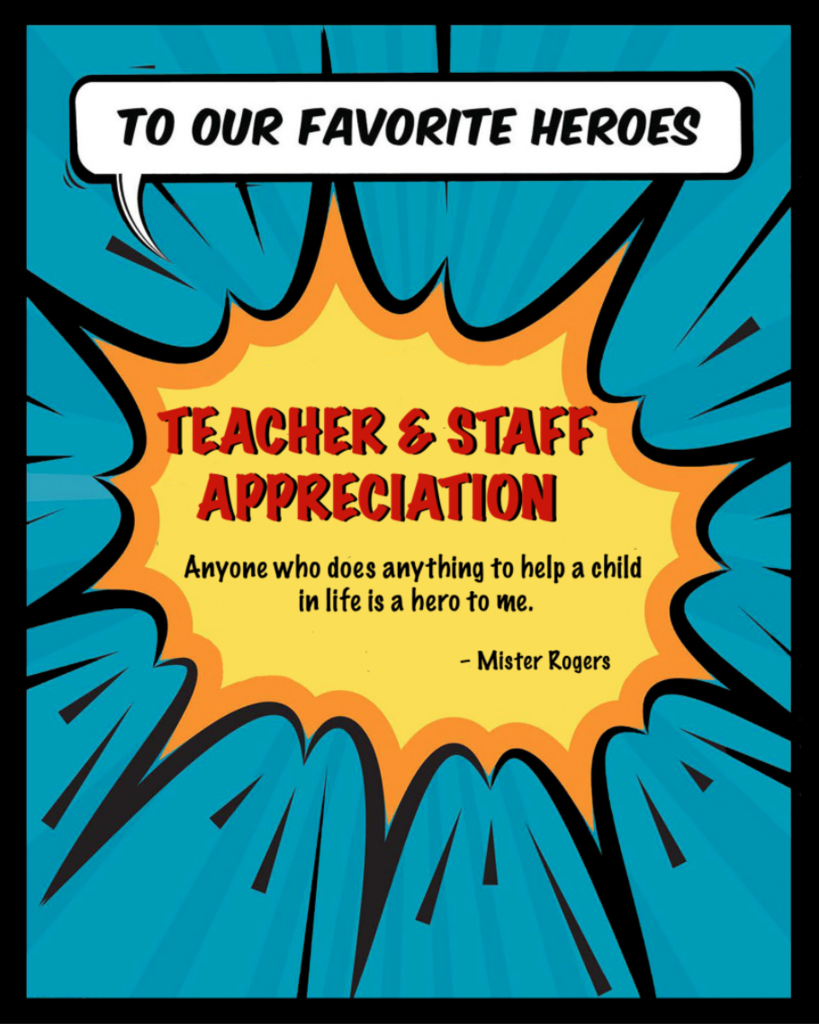 Viking Baseball hosting Thunder Mountain HS this weekend. Games on Thursday at 4:30, Friday doubleheader with games at 1:30 and 4:30 and Saturday morning JV game at 8:30am. Come out and cheer for our Petersburg Vikings!
The Petersburg School District is looking for excellent educators to join our team. We are hiring several positions for the '22-'23 School Year, K-12! Find more information about these positions at our website:
https://www.pcsd.us/page/employment-opportunities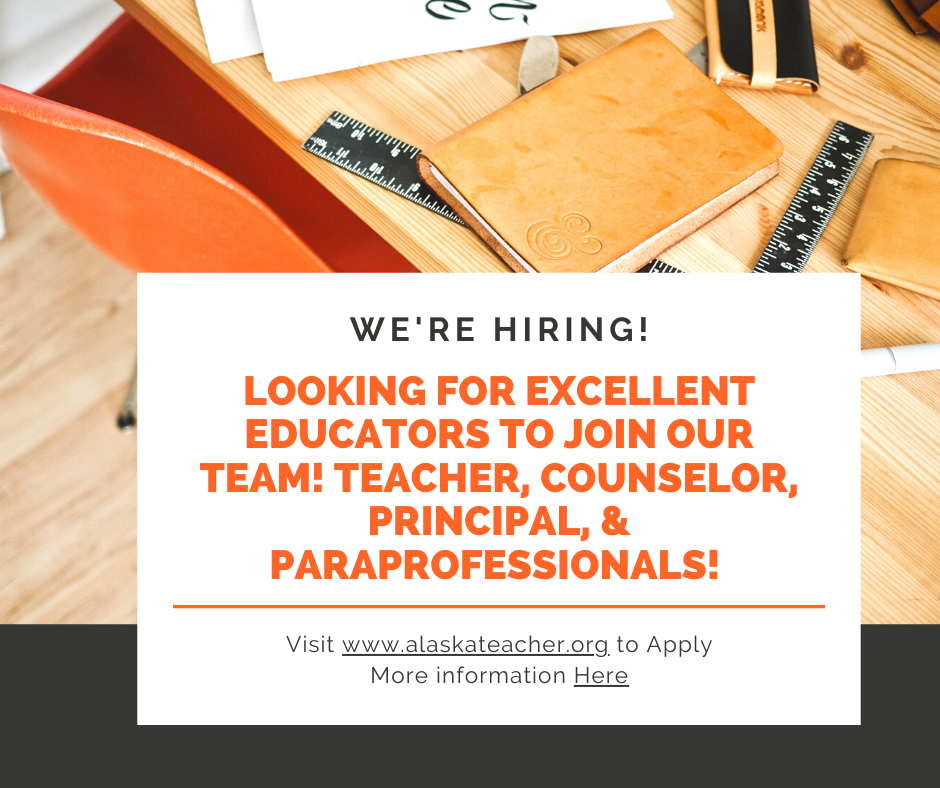 Parent/Community Input Survey for Hiring MMS/PHS Principal: PSD is seeking input from parents and community members regarding the leadership qualities and priorities for the incoming MMS/PHS Principal. Please take a few minutes to complete the attached survey as we begin the selection/hiring process for our new MMS/PHS Principal. The survey will close April 29, and the hiring process will begin the following week. Thank you! Erica Kludt-Painter, Superintendent
https://www.surveymonkey.com/r/WFHZZRD
Stedman would like to present to you a Migrant Education and Title One Sponsored Literacy Event!! Thursday, April 21st @3:45pm Stedman Cafeteria Sign-Up Required Please complete this short form to let us know that your family would like to participate in this event. This is an in-person event. However, by signing up does not mean you need to attend in person. If something comes up we will make sure you get your fry bread book and kit to do it at home on your own time. Each family will receive a Bread Proofing Kit with a "Fry Bread" book. Space is limited to 30 families! If you can not attend in person photo's of your family creating and participating are always welcomed and encouraged to be shared!! Literacy Night Sign-up Required 1-877-526-7656 ext.400 Thank you, Heather Conn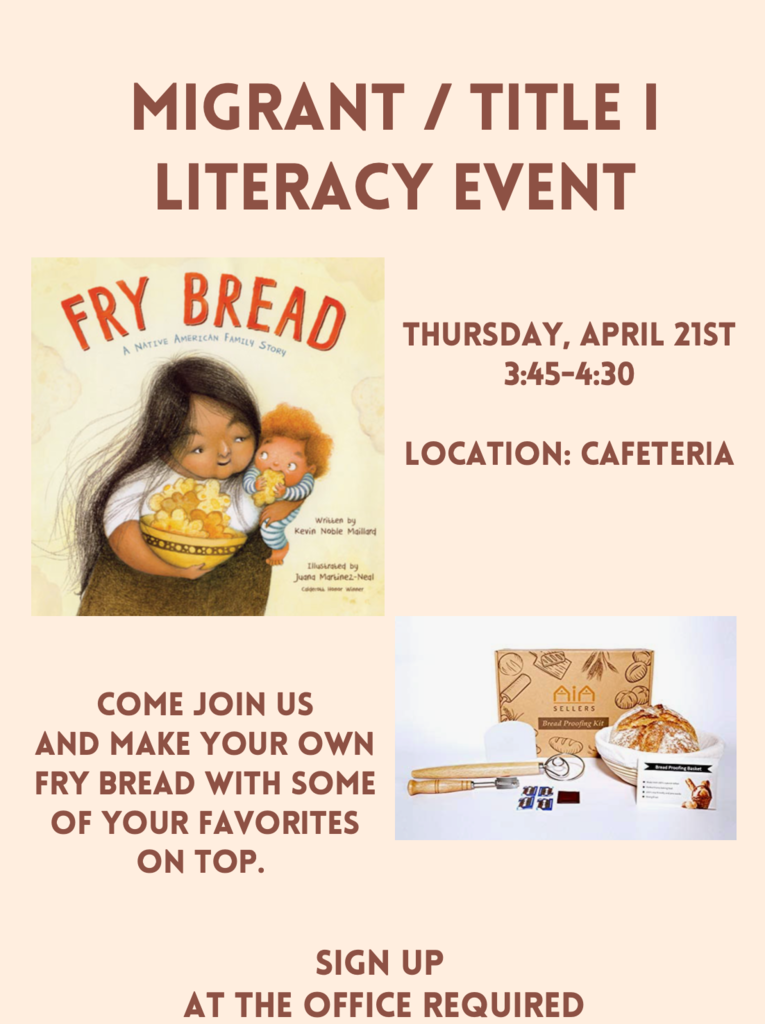 MMS/PHS Principal Resignation Announcement: After thirteen years as a member of the Petersburg School District staff and community, Mr. Dormer has decided to make a change in the coming school year. He has accepted the position as the next principal of Ketchikan High School, starting August 2022. We would like thank Mr. Dormer for his many years of dedicated service and commitment to PSD students, staff and families! We wish him every success in Ketchikan next year! The District has posted the position on the Alaska Teacher Placement site and will be forming a committee to begin the process of finding a replacement for Mr. Dormer.
Stedman would like to present to you a Migrant Education and Title One Sponsored Literacy Event!! Thursday, April 21st @3:45pm Stedman Cafeteria Sign-Up Required Please complete this short form to let us know that your family would like to participate in this event. This is an in-person event. However, by signing up does not mean you need to attend in person. If something comes up we will make sure you get your fry bread book and kit to do it at home on your own time. Each family will receive a Bread Proofing Kit with a "Fry Bread" book. Space is limited to 30 families! If you can not attend in person photo's of your family creating and participating are always welcomed and encouraged to be shared!! Literacy Night Sign-up Thank you, Heather Conn