IMPORTANT REMINDER: Parent Teacher conferences for Middle and High School students are THIS WEEK! Thursday November 3rd 4pm-8pm and Friday November 4th 2pm - 6pm. Appointments are required, and you can schedule your conference at this link:
https://signup.com/group/766981428609448030
Time slots are filling up so please check it out! *Special note - High School students will have an extra early release at 12:05 on Friday November 4th. Elementary and Middle will have normal Friday release times. High school students who ride the bus can catch the afternoon bus at 12:45pm on Friday Nov. 4th.

Stedman Literacy Night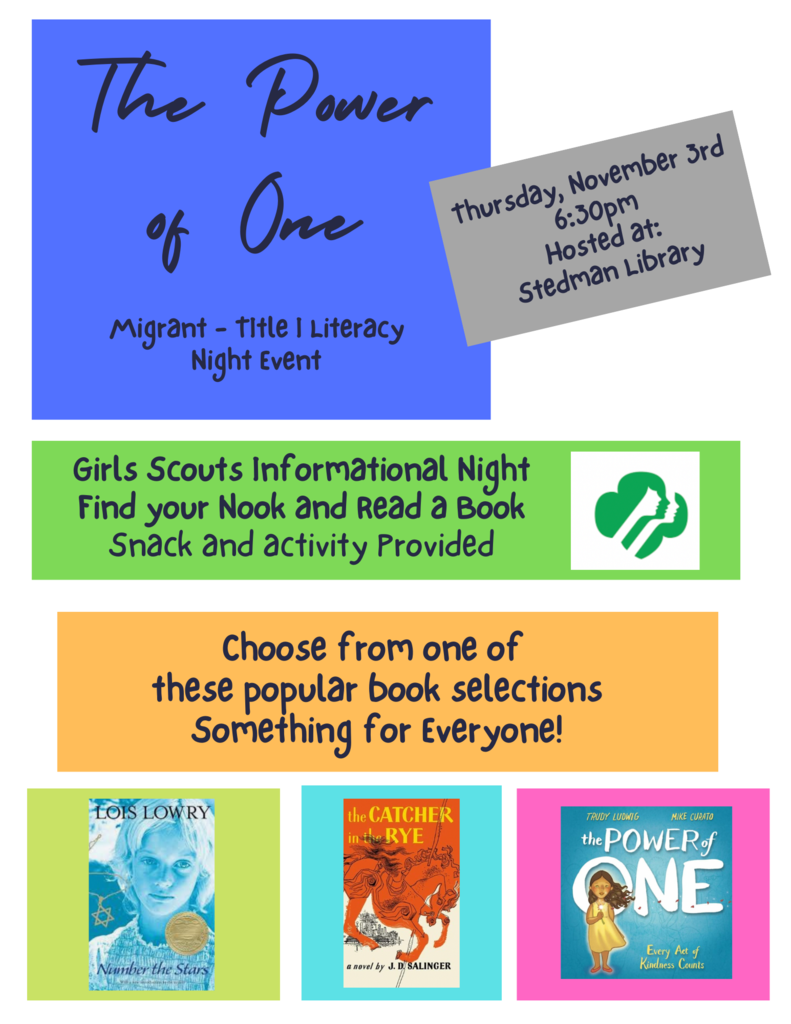 Good morning! The road was cleared at 1:30 am. There is still some mud on the road, and flaggers may be out, but buses should be running as normal today. The power is still out for many families, so please email or text the school office as you are able if your child is going to be absent. Thank you to all who worked throughout the night to clear the slide, and we are so grateful no one was injured!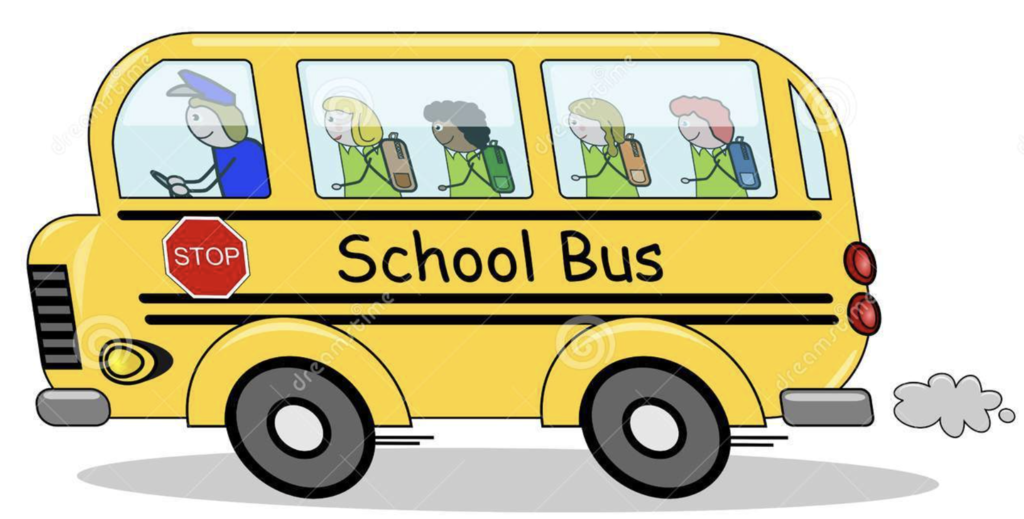 IMPORTANT: As most of you know, there was a slide at 6-mile this evening. We are so grateful that everyone is safe! Unfortunately, the road is still blocked and we do not know how long it will take to clear the road at this time. If you live on the other side of the slide, we are assuming your child will not be at school on Tuesday (unless you are driving around Cabin Creek Road). This absence will obviously be excused. If you are able to send an email or text to your child's office, that would be great, but we understand if that is not possible. We will confirm bus times Tuesday morning and announce any changes via One Call, on Facebook, and on the radio. Thank you!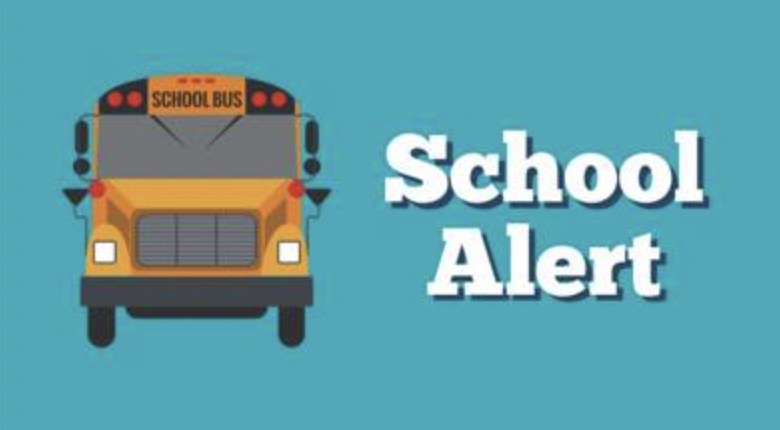 Stedman Literacy Night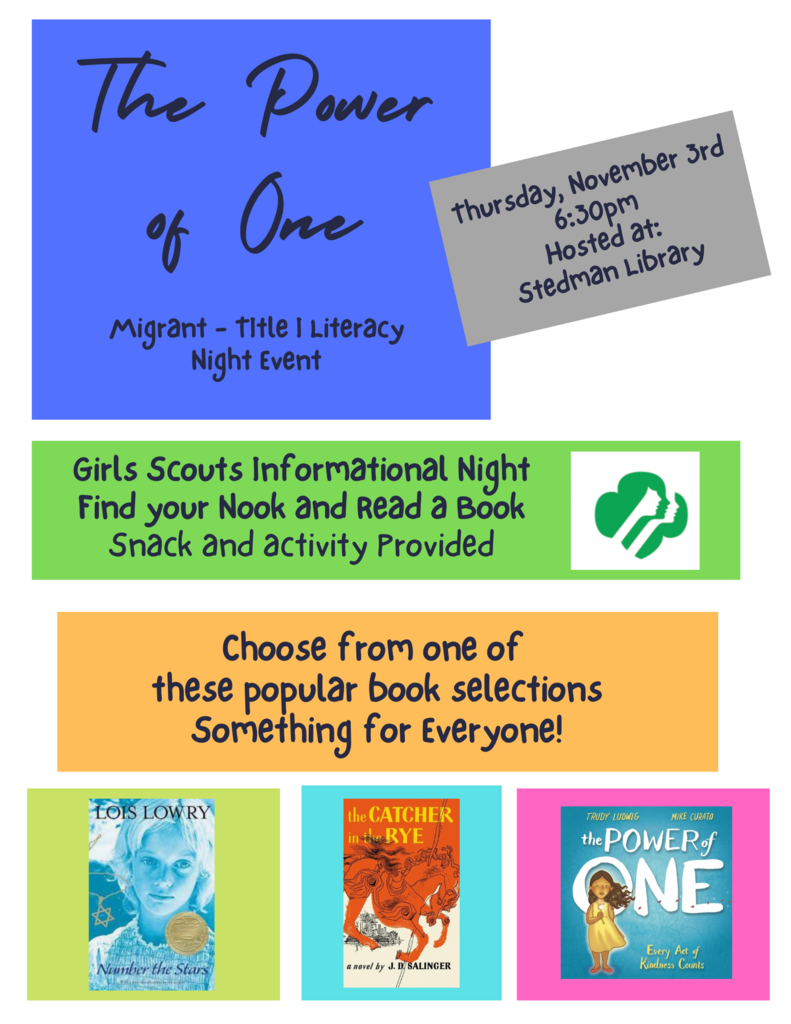 Senior Meghan O'Soup has qualified for All-State Music Mixed Choir! Congratulations to her and the other students who auditioned. Eleanor Kandoll was selected as first alternate for Clarinet, fingers crossed for her! You can watch the SE Honors performances from this past week on the Haines YouTube page.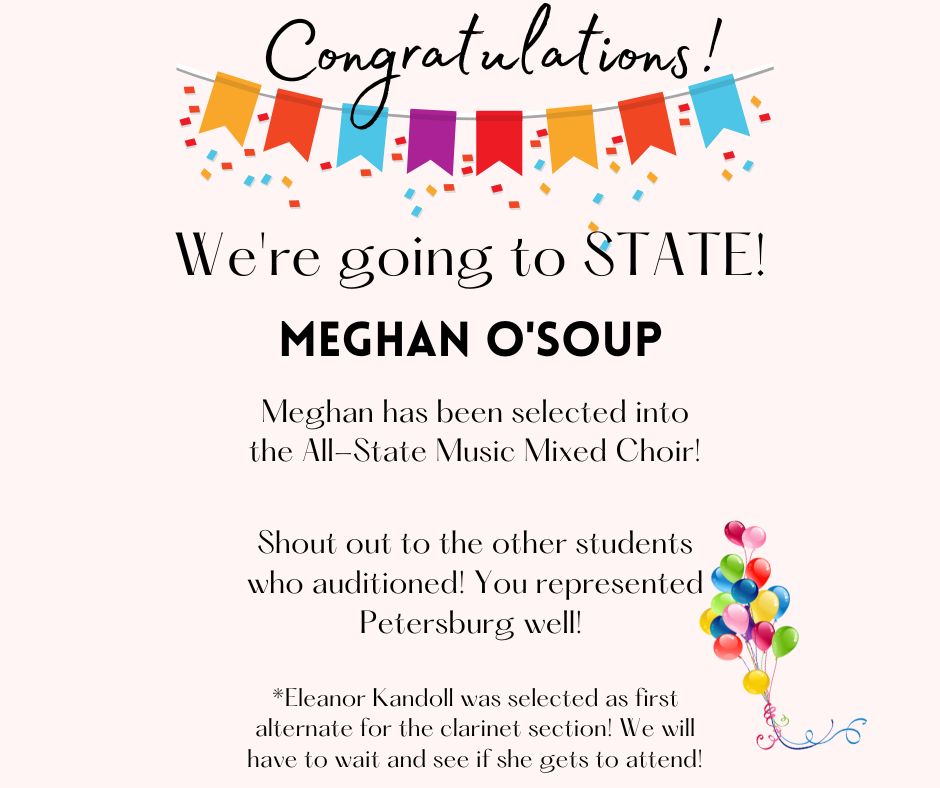 Mitkof Middle Basketball this weekend! Saturday morning, both Girls and Boys; A and B team will tip off against the Stikine Middle School Wolves! Game times begin at 9 am in the High School gym! Come out and cheer on your Mitkof Middle Vikings! * as always, game times are tentative and are weather dependent.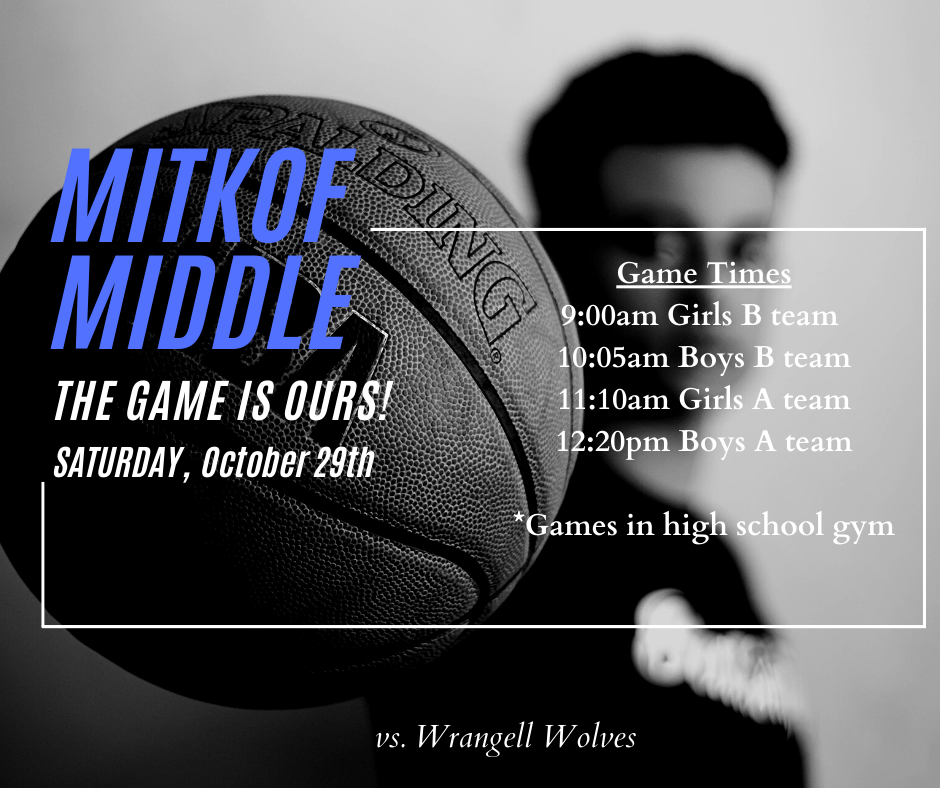 Important dates for the Middle and High school next week! Monday October 31st: No School / Teacher In-Service Thursday November 3rd: MS/HS Parent Teacher Conferences 4pm-8pm Friday November 4th: High School Early Release 12:05 (MS normal Friday release) Friday November 4th: MS/HS Parent Teacher Conferences 2pm - 6pm Sunday November 6th: Daylight Savings Time ends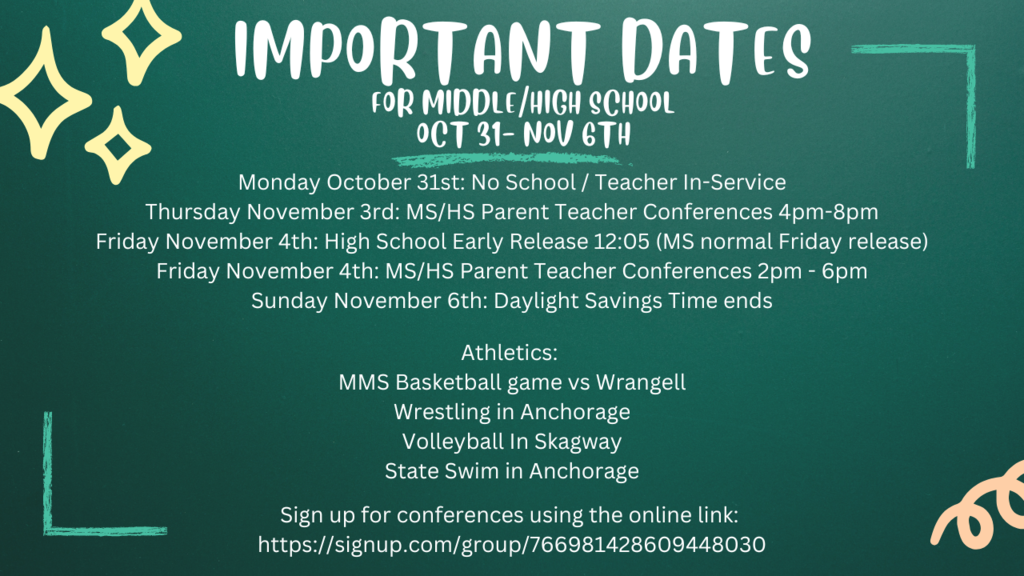 Parent Teacher conferences for Middle and High School students are NEXT WEEK! Thursday November 3rd 4pm-8pm and Friday November 4th 2pm - 6pm. Appointments are required, you can schedule your conference at this link:
https://signup.com/group/766981428609448030
Time slots can fill up fast! *Special note - High School students will have an extra early release at 12:05 on Friday November 4th. Elementary and Middle will have normal Friday release times. High school students who ride the bus can catch the afternoon bus at 12:45pm on Friday Nov. 4th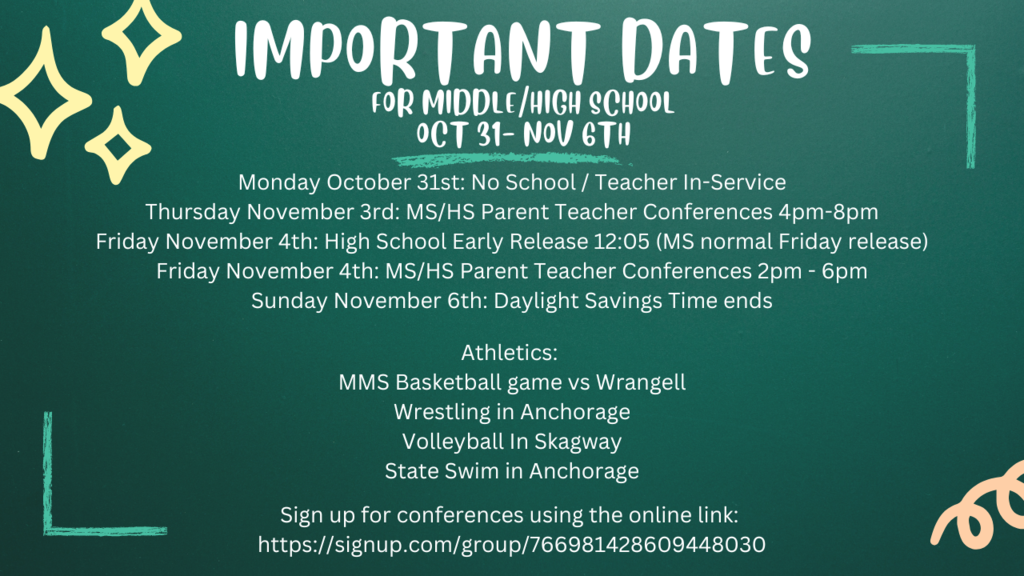 Middle School Activity Night, Friday Oct 28th 6:30 - 8:30pm. $2 entry fee, Enter/Exit through the high school doors only! Lots of activities and fun to be had. Open to middle school students only. *Parents that are interested in volunteering to help out are needed! Call the office 877-526-7656 x200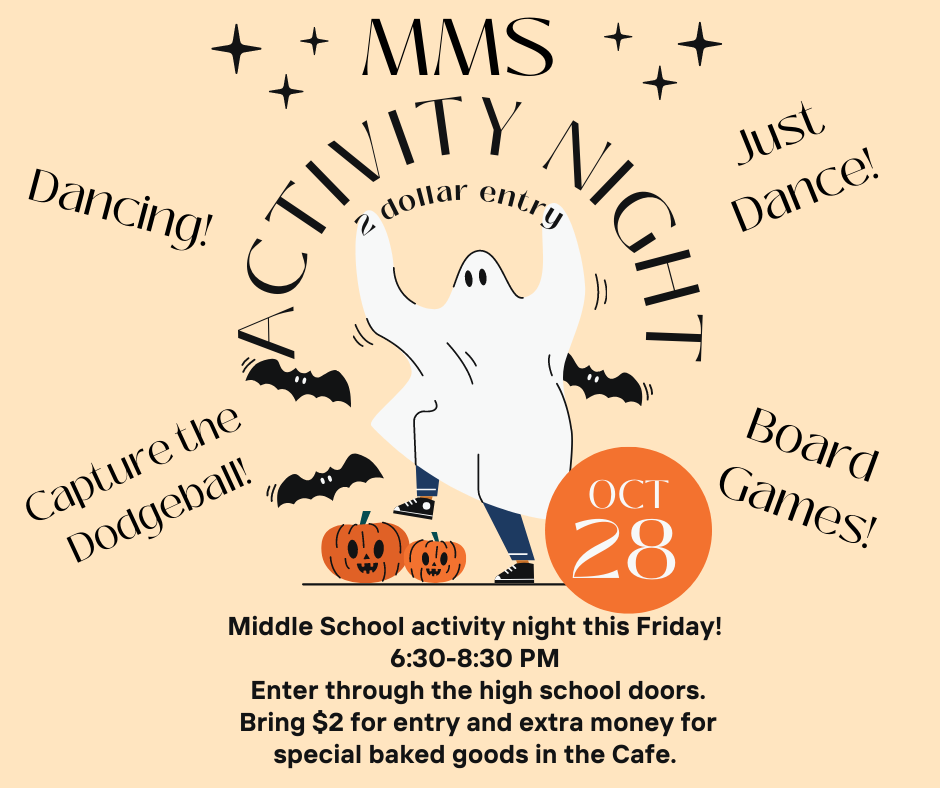 Stedman Literacy Night!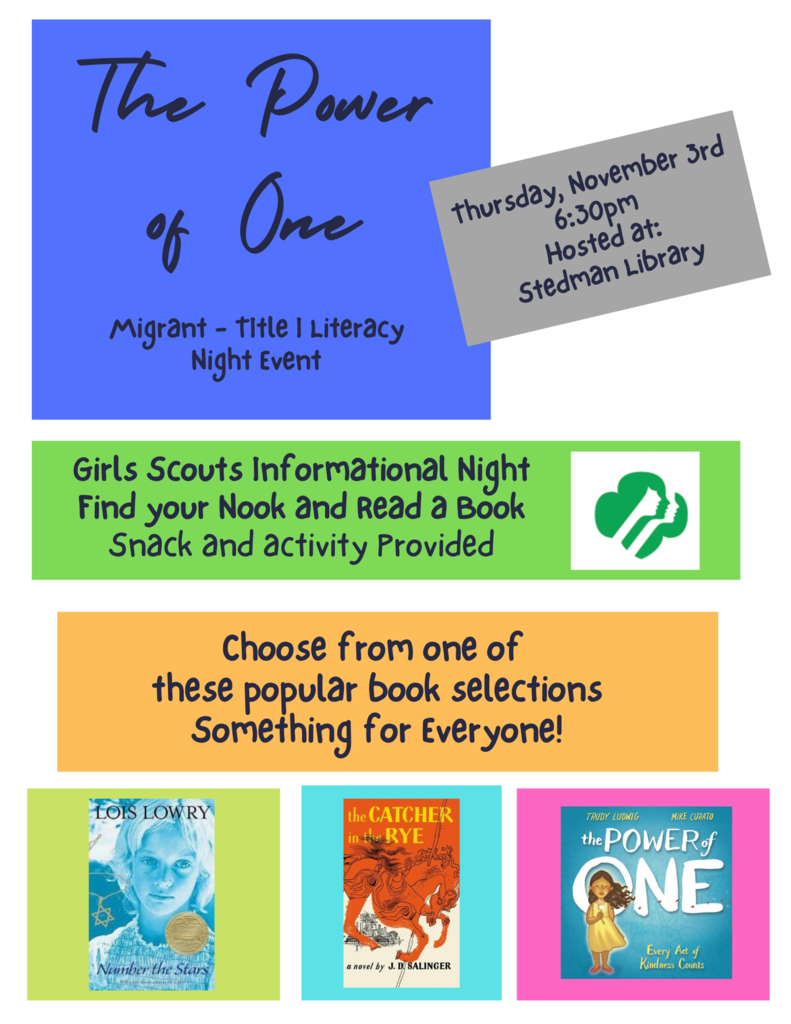 Reminder: No school district-wide on Monday October 31st for a teacher in-service.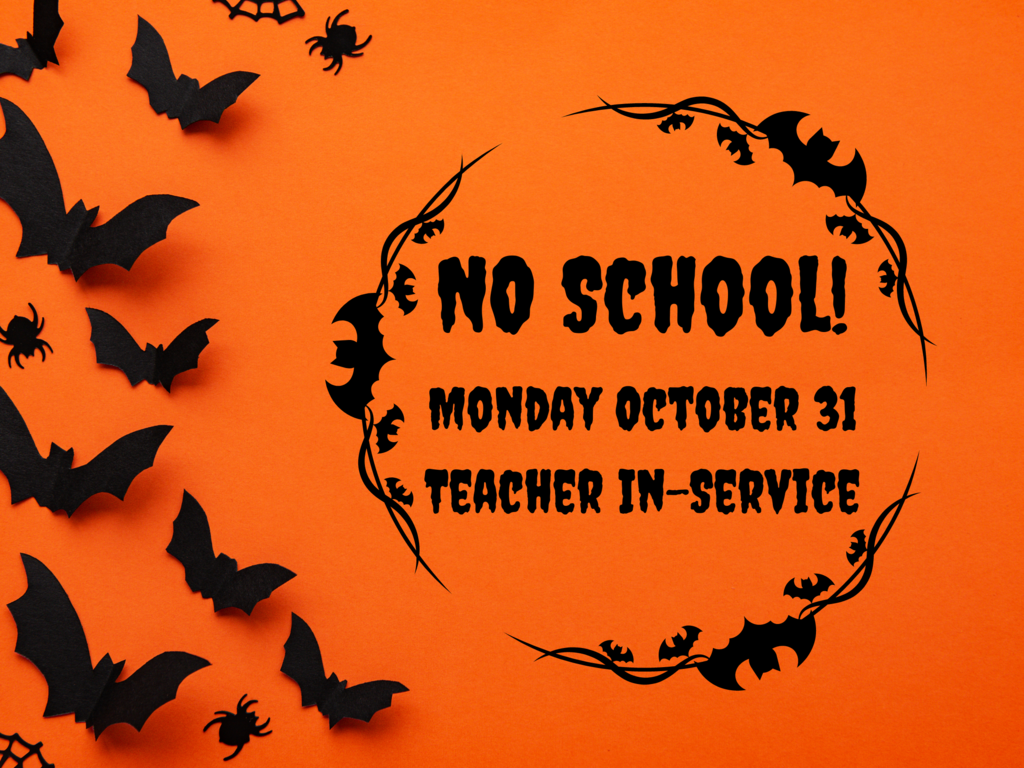 Stedman Literacy Night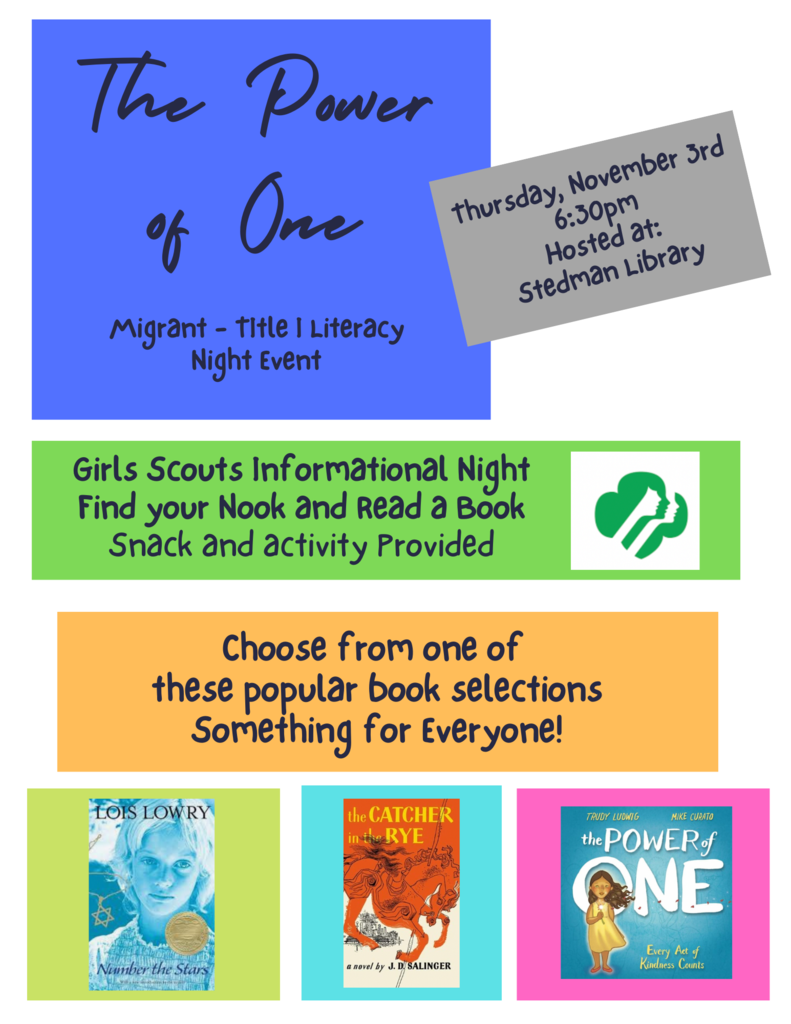 This weekend at the Oktoberfest Art Share! PHS Jewelry students will be selling their works of art. The class is fundraising to buy sterling silver for their second quarter class projects. Their booth will be in the gym from 10 am - 3 pm, stop by and check out their work and purchase a piece or two.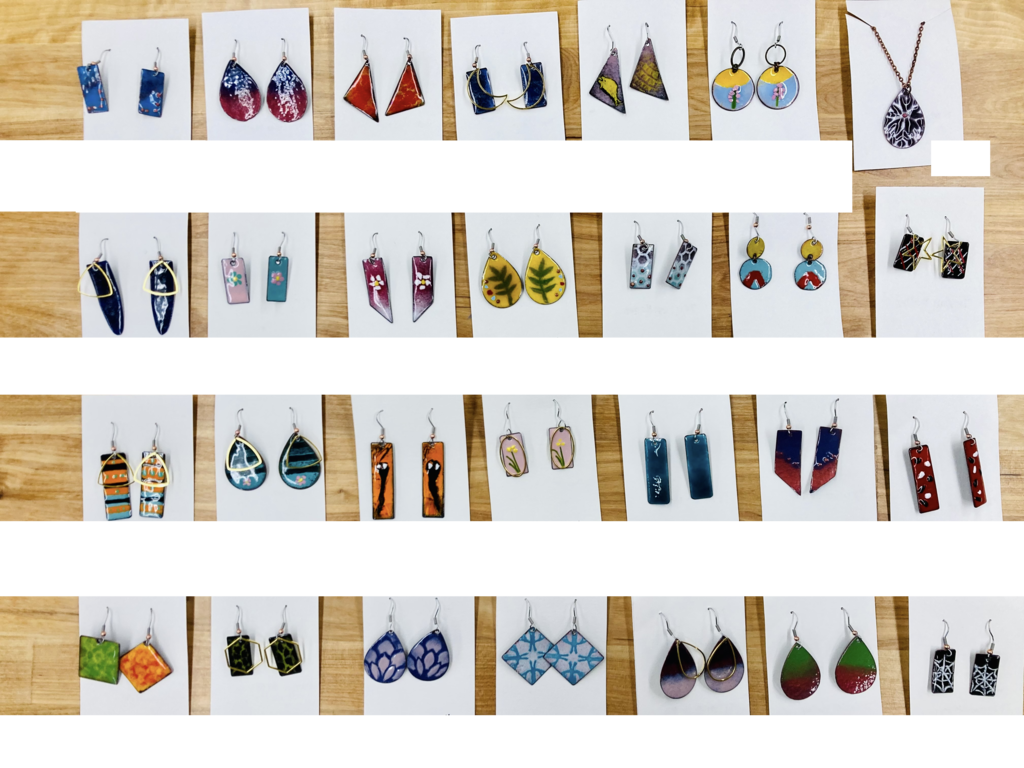 Wondering where our Student Athletes are this weekend? Wrestling is travelling to Haines, Swimming will be in Sitka and the Volleyball team will be in the capital city, Juneau. Good Luck to our Vikings!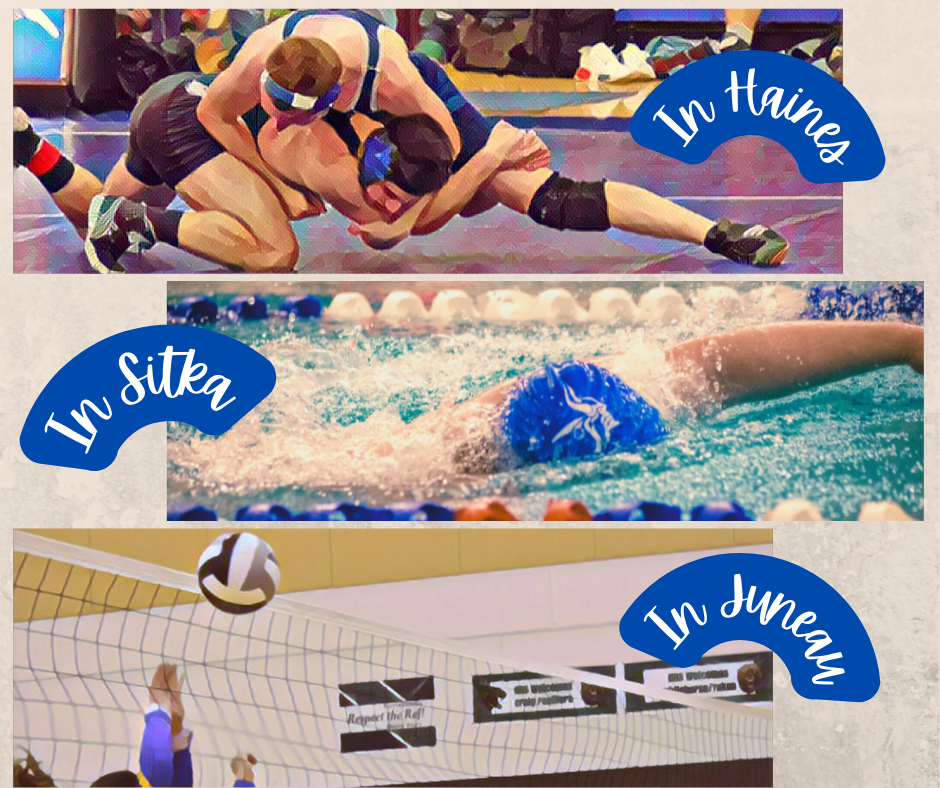 Have you harvested your garden and are ready to cover those beds? The Music program is doing the annual seaweed fundraiser. $12 for a garbage bag full. Delivery to take place October 29th. Call the High School office to place your order 1-877-526-7656 X201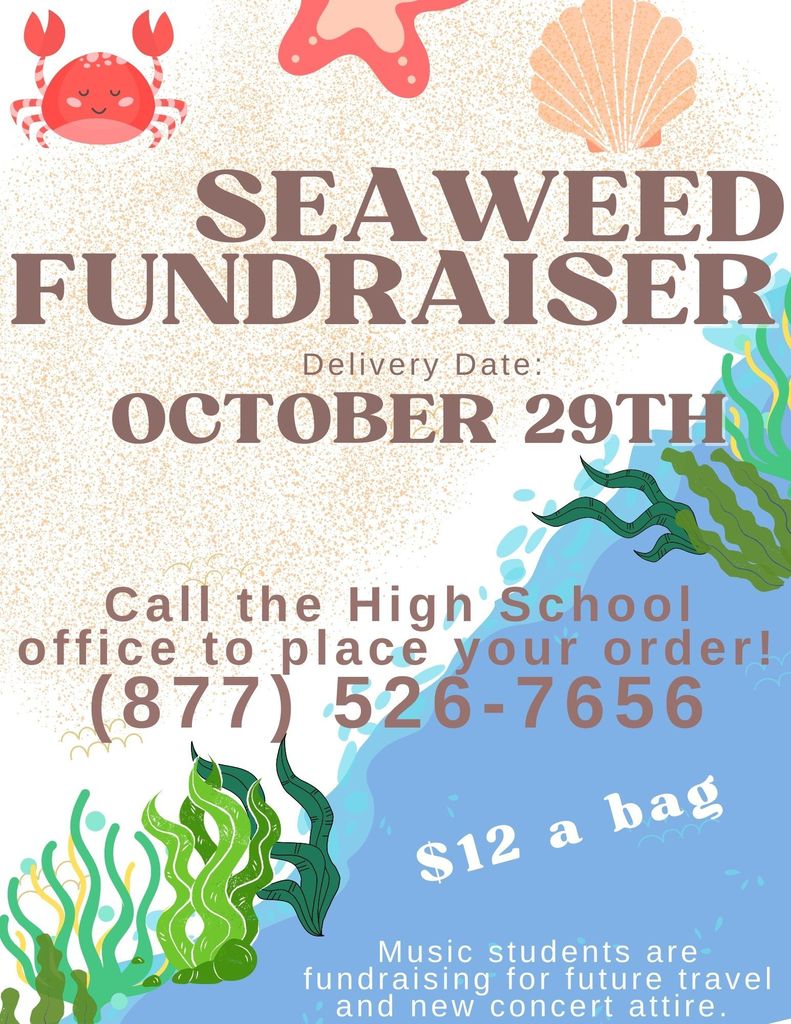 MS/HS VIKING BULLETIN Friday, October 7, 2022 From the Principal's Corner Change of Seasons: Not just light and temperature...We have new sports schedules, grades and much more. Participate to YOUR fullest. Meet the moment in every way. Commit to being a good person and being in the now. The rest will take care of itself! Ambler Moss Coming Up! PSD students, staff, and families! Join in the fun! National Walk or Bike to School and Work Day is Oct. 12, 2022! As part of the Petersburg Medical Center's "Healthy Community Series" the Wellness Department is hosting a community Walk and Bike to School or Work Day on October 12th. - Volunteer crossing guards will be stationed at various intersections from 7:40 to 8:15am in town to assist participants in getting to school/work safely. - All bikers are reminded to wear their properly fitting helmet and bright colors and to ride in the same direction as traffic. -Walkers should also wear clothing that is bright and easily seen, but walkers should be on the left-hand side of the road so you can see traffic coming towards you. We look forward to seeing the community be active before settling in for their school or work day and thank drivers for their extra caution on the morning of the 12th. Please feel free to share this post and spread the word! High School Class Meetings Wednesday, Oct 12 during read block. Sophomores will be taking the PSAT on Wednesday the 12th. High School Schedule for 10/10-10/14 Monday: Monday Schedule Tuesday: Odd Wednesday: Even Thursday: Odd Friday: Even Lunch Menu (10/10-10/14) Monday: Turkey Sandwich Tuesday: Enchiladas Wednesday: Grilled Cheese Sandwich with Tomato Soup Thursday: Beef Chili Friday: Chicken Nuggets and Pasta Salad There is no charge for 2nd chance breakfast or lunch for MS/ HS Students this year! School Photos- If you missed school pictures this week, stay tuned for information on Make-ups! Senior Deadlines: SENIOR YEARBOOK SUBMISSIONS: Seniors must gather the following yearbook submissions by OCTOBER 28: 1) Portrait (head and shoulders), 2)nd choice photo or school id photo, 3) Baby/toddler photo, 4) Parent message, 5) Senior quote, 6)Shoutouts/will, and 7)Blast from the Past photos. **Please make sure you follow the guidelines in the instruction sheet that was emailed to you and also placed in your yearbook folder. Viking Activities (event times scheduled to change!) HS Swim: The team leaves for the Sitka meet on afternoon jet Thursday the 13. HS Volleyball: Varsity is traveling to JDHS on Friday the 14. HS Wrestling: Leaving for the first Meet in Haines on the am jet Thursday the 13. HS Yearbook Club: Meets Thursdays at lunch in the library! HS ESports: Season begins Monday the 26th! HS ASB: Meet Tuesdays at lunch. PEP BAND: Starting up this week!! Rehearsal: Wednesdays after school until 3:45. MIDDLE SCHOOL Lego Robotics: The robotics team will have Practices on Monday, Tuesday, and Wednesday from 3:30 to 4:30 in Mr. Wards' classroom MMS Basketball & MMS Cheer Girls BASKETBALL @ PnR Gym 3:15P - 4:45P. Boys BASKETBALL @ PnR Gym 4:30P - 6:00P. CHEERLEADING @ MMS Commons - Mon, Wed, & Fri 4:00-5:30. Birthdays Here are the birthdays for the week of 10/02-10/08: Bryana R 10/10 Logan H 10/14 Kinley L 10/14 Sailor O 10/14 Mr Owens 10/12 Mr Painter 10/14 Mr Cottrell 10/14 Program Information Testing Info Testing dates for the 22-23 school year can be found at the following link: 2022-23 PHS TESTING DATES PSAT: This will be offered in our school on October 12, 2022. Due date to sign up and pay the $18.00 fee is Friday, September 9th. The PSAT/NMSQT is the Preliminary SAT/National Merit Scholarship Qualifying Test. The PSAT is a great primer for the SAT, and even the ACT, but it's more than just a trial run. PSAT scores are used to identify National Merit Scholars and award merit scholarships. If you have any questions regarding the PSAT please reach out to Mrs. Mariah Colton or Mrs. Cyndy Fry. SAT: You need to register and pay online for the test using the following this LINK ACT: The ACT is being offered on October 22, 2022. You are required to register for the ACT by Friday, September 16, 2022. Please follow this LINK to register. Scholarship Opportunities The Elks Most Valuable Student Scholarship! Local awards are available to students pursuing a 4 year degree at a US College or University. Applications are due Nov 14, 2022. Go to This Link for more information and to apply today! The WebstaurantStore Scholarship program is now offering two $5,000 grants to eligible students to help further their education in the fields of culinary arts or hospitality. We want to reward current or prospective students enrolled in a culinary arts program or majoring in Culinary Arts or Hospitality Management. For more information or to apply, go to :
https://www.webstaurantstore.com/scholarship/
Community Announcements & Events Volunteer & Employment Opportunities The Elks Soccer Shoot is looking for 3 HS Volunteers to help with the event on Saturday, October 15th. This would be from 8:30-11:00 and you will get a free lunch when the event is over! Contact the HS office if you are interested. Parks & Rec Youth Basketball Program is looking for volunteers for score keeper and clock as well as referees for the upcoming season in October. If you are interested in volunteer hours, please contact Julie
janderson@petersburgak.gov
, 772-3392 or stop by the front desk to learn more and to sign up. Northern Nights Theater SHOWTIMES: Fri/Sat at 7 & Sun at 4 Playing 10/14-16 Running the Bases rated PG IMPORTANT: COVID notification process for students and families 22-23 COVID contact tracing is no longer being conducted at school. If you are interested in knowing the active Covid case count within each school, please check this link on the pcsd website:
https://www.pcsd.us/page/covid-reporting
. It will be updated anytime there are new cases reported at the school. One Call notifications will only be made if there is a significant spike in Covid cases or if staffing is limited. Please do not send your child to school if they are sick or exhibiting symptoms. At-home antigen test kits are available to all students and families upon request in each school office. The District COVID mitigation plan is attached to this bulletin and is also available on the website link above.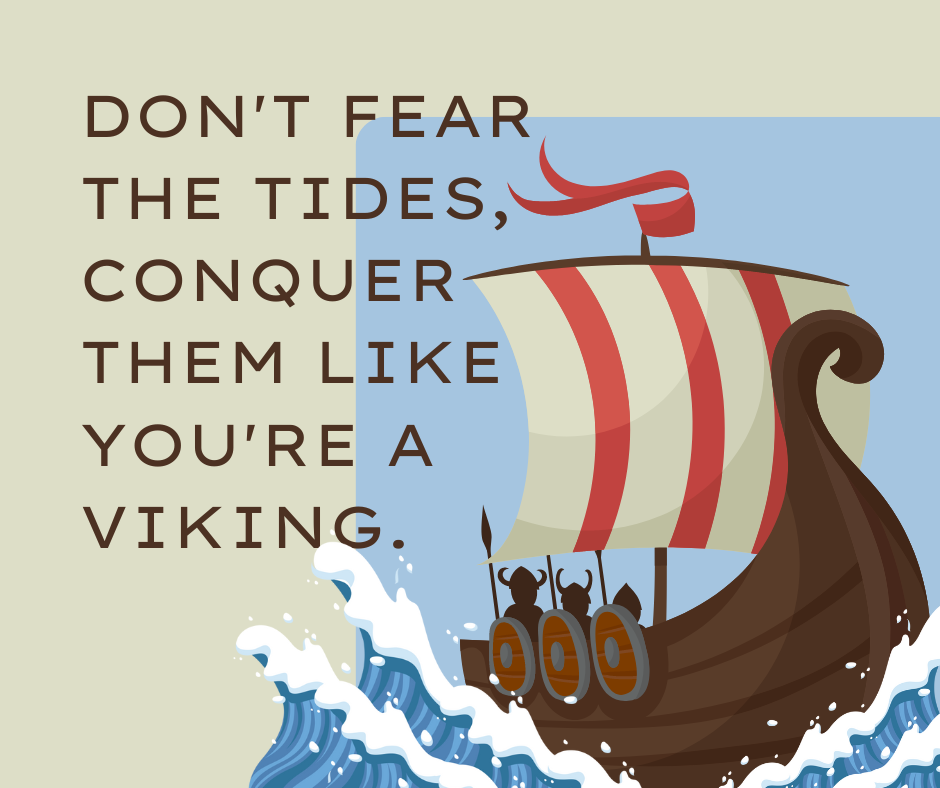 Good Luck to our PHS runners at the D3 State Championships! Let your legs do the running, your mind do the pacing and your heart do the pushing. Tune in tomorrow (Saturday Morning) to watch the Cross Country Girls team and individual Boys run in the ASAA D3 State Championships. Girls Race at 10 am Boys Race at 10:45 am You can use this link to watch the races, it is a paid service, but 10% goes back to support our activities. Be sure to set it up beforehand so don't miss the race! You can also watch on a SmartTv through the NFHS app.
https://www.nfhsnetwork.com/events/asaa/gam722789e78f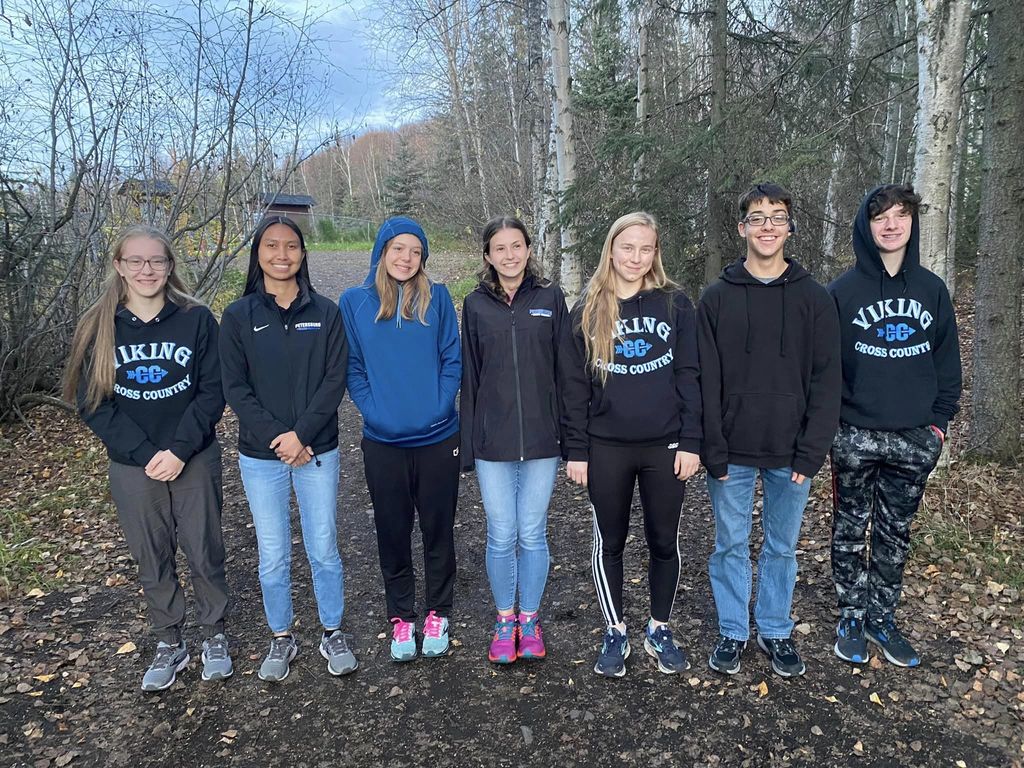 ******VOLLEYBALL! TONIGHT/ TOMORROW******* ****** (note new estimated game times)******** JDHS vs Petersburg on our home court! Come make some noise! Open seating, no ticket necessary! *These are estimated times because of the delayed jet* Friday: JV1 plays at 5:15pm, JV2 plays at 6:30pm and Varsity plays at 7:45pm Saturday: JV1 / JV2 play at 8:15am and Varsity plays at 9:45am You can also watch on the NFHS network on your SmartTv with the NFHS app or online.
https://www.nfhsnetwork.com/schools/petersburg-high-school-petersburg-ak
this link will show all upcoming events. This is a paid subscription, however you will get to watch our home and some away events and a portion of the fee comes back to the activities program.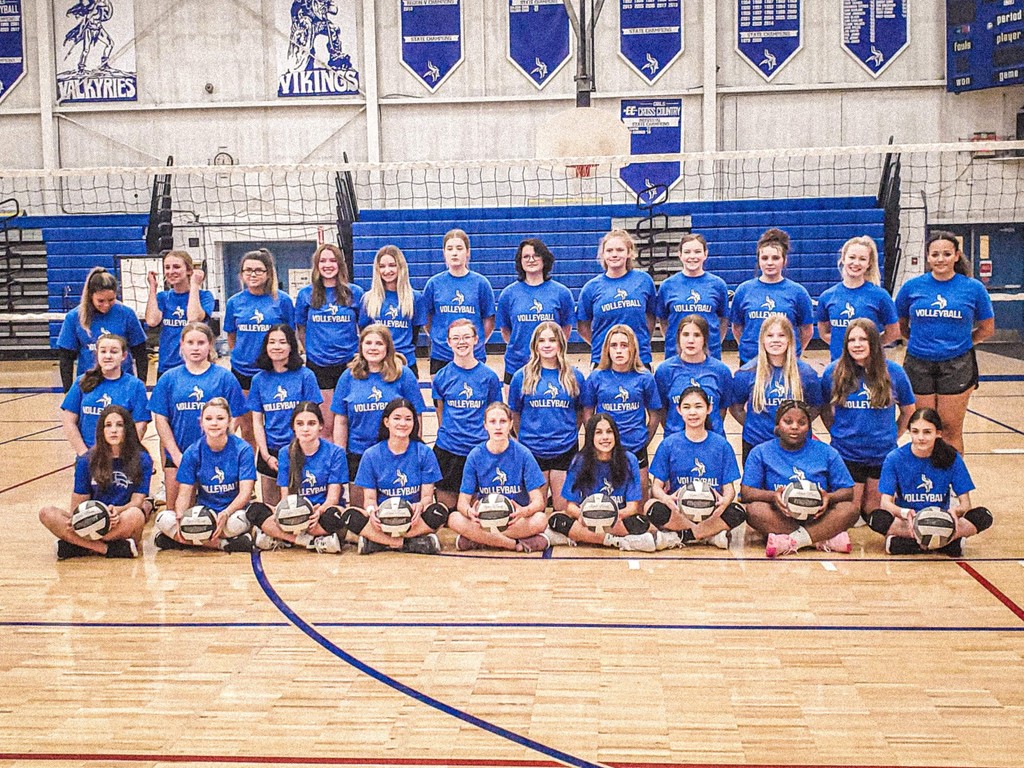 Scholarship Alert! If you have questions about this scholarship, or other scholarship opportunities, please reach out to Mariah Colton
mcolton@pcsd.us
the Student Services Coordinator (Counselor).